Dyer Insulation was started in 1945 to serve the post-World War II housing boom, primarily insulating single story homes. As the construction industry evolved in New Jersey, the business expanded to include industrial and commercial work as well. In 1960, Dyer expanded its use of production tools with the introduction of sprayed urethane foam, used for the insulation of storage tanks and roofs and other warehouse insulation needs.
Spray applied thermal systems are the most effective systems with the lowest heat transfer characteristics. Dyer Insulations has the ability to cover virtually all construction materials, including metal, wood, concrete, urethane, styrofoam, and glass. Our expert team has the solution to meet the R-value of any project.
Facts on Urethane Foam Insulation
Dyer has been using urethane foam for over 30 years, and was a primary consultant in its early stages of deployment
The insulation is installed to meet all local and national building codes
Urethane foam can be applied to almost any type of building, including storage tanks (water, chemical), parking garage ceilings, exterior wall systems, and office environments
Urethane foam is the most efficient insulation available
Facts on Cafco Heat Shield
Mineral fiber composition
Spray thermal insulation
Facts on Loose Fill Insulation
Blown cellulose for an attic-type application
Seamless coverage and less expensive than other insulation products
Spray foam insulation is the combination of two types of composite material, polyurethane and isocyanate.  The two materials chemically react to expand and harden when combined. To install, the two materials are sprayed at the same time from the tip of a spray foam gun. They then combine and expand to form a protective layer of spray foam insulation over the designated area.
Two different types of spray foam insulation are available: open cell and closed cell. Open cell is a more cost effective option but has a lower R-value per inch so a thicker layer is often required. It has an effective sound dampening effect and is permeable to moisture but stops air. Closed cell insulation provides a higher R-value per inch and adds structural strength to wall, ceiling, and roof assemblies. It is impermeable to both air and moisture.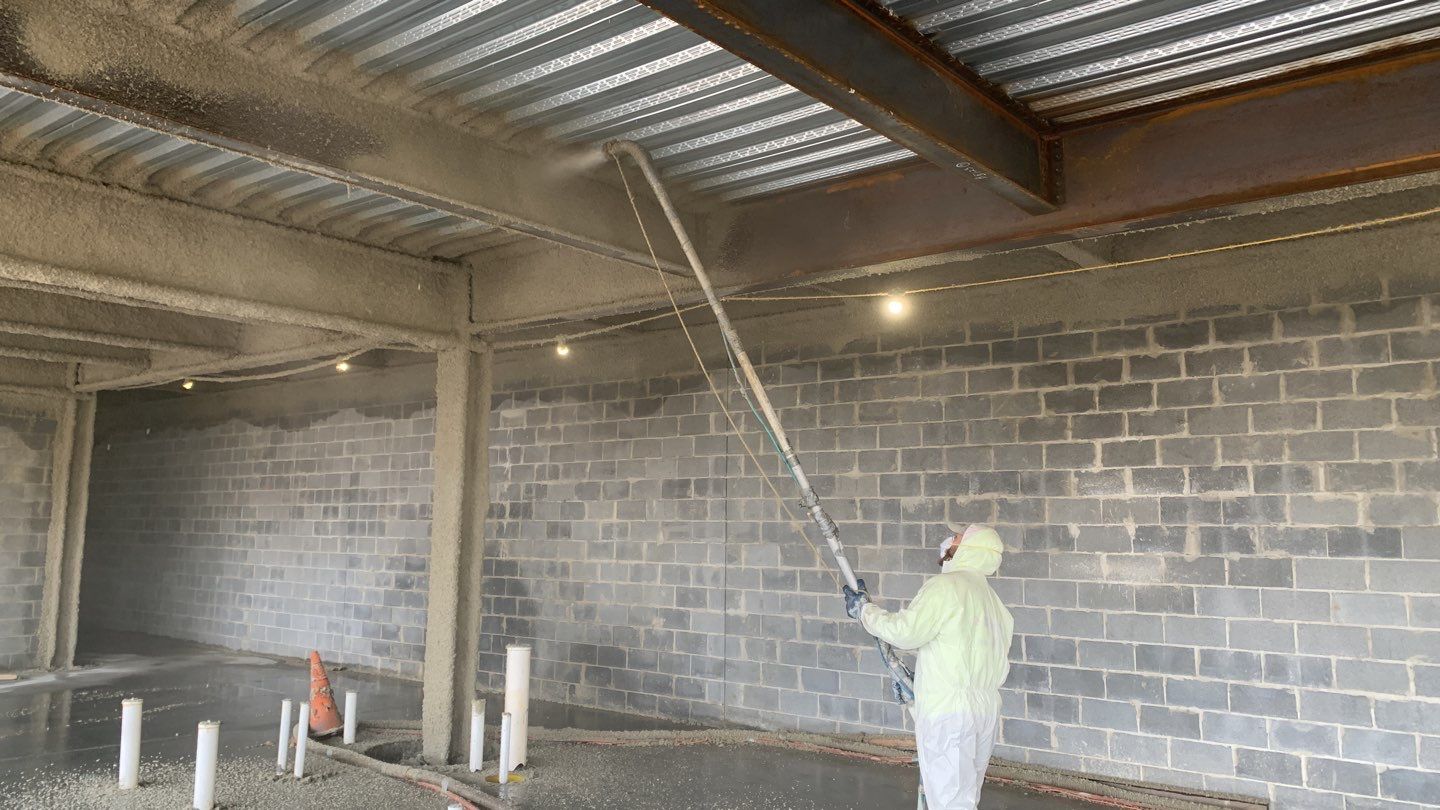 Fireproofing
Whether your specifications call for spray-applied, film intumescent coating, or rigid board fire protection systems, Dyer offers the expertise, service, experience and products that your project requires.
Acoustic Systems
Whenever sound control is needed for interior ceilings or walls, our proven spray-applied insulation products and services are unmatched, offering industry-leading acoustical production with an attractive finish.
70 Cobb Street • Po Box 675 • Rockaway NJ 07866