Fireproofing
With over thirty years of commercial fireproofing experience, Dyer Insulations brings technical expertise in the arena of passive spray-applied fire resistive materials. Offering a wide variety of spray-applied and intumescent paint systems across several product lines, the right product is available to best serve your specific job requirements and budget.
Spray-Applied Fire Resistive Material

Through the use of spray-applied fire resistive materials, Dyer Insulations can meet your fireproofing requirements with an effective and cost efficient solution. Unique requirements such as areas exposed to weather conditions, day-to-day abuse or requiring a custom finished look are not a problem. Dyer Insulations has the experience and product line to fit any need.
Intumescent Paint Systems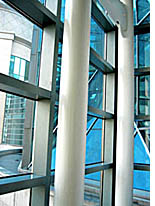 Intumescent paint systems allow architects to apply a custom decorative coating to exposed steel while meeting the required fire resistive rating. These systems are often used as a versatile alternative when applying hourly ratings to exposed steel requiring a finished look or to areas requiring limited fiber exposure. Dyer Insulations provides intumescent coatings that are abuse resistant, easy to maintain and can be applied at virtually any phase of the construction process.
Other Solutions
Not all fireproofing needs can be solved through the use of spray-applied or intumescent paint systems and Dyer Insulations has the technical experience to recommend and apply alternative solutions to fit your job needs. Whether it's Rigid Board fire protection or other alternatives, the right solution is available with Dyer Insulations.
In-depth product information can be found through these product manufacturers:




Call for a free quote on your project: (973) 627-8020
or email:
sales@dyerinsulations.com